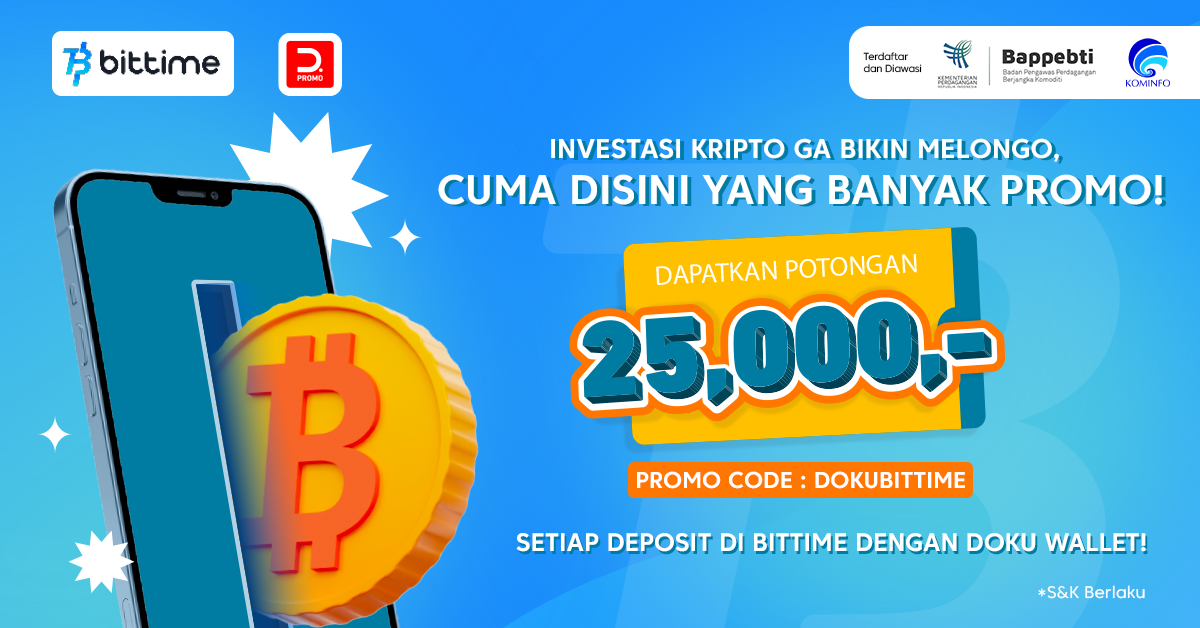 Bittimers,
Now you can get more benefits with the Bittime x DOKU promo.
Get an immediate discount of IDR 25,000 by depositing via DOKU e-Wallet.
Let's read the terms and conditions first to get this promo:
Bittime users will get a IDR 25,000 discount (by making a minimum deposit transaction of IDR 500,000) through the Bittime apps by topping up via DOKU e-Wallet using the promo code: DOKUBITTIME
Promo is valid for the first 1,500 transactions during the promo period
Promo is valid from 15 February - 15 March 2023.
Promo code is only valid for 1 (one) transaction with 1 (one) DOKU ID
The same DOKU ID can reuse the promo code in the next promo period.
DOKU has the right to stop the promo at any time if it finds fraudulent use of the promo.
Promo code can expire at any time without prior notification.
Transaction fees follow Bittime application rules.
Each Bittime account can participate in the event only once. Each user are only allowed to use 1 (one) doku wallet account to redeem the promo code.
Bittime reserves the right to cancel the discount and delay the withdrawal process for users who attempts to commit fraud. Depending on the severity of the violation, the account might be frozen permanently.
Decisions by Bittime are final and cannot be contested.
Read more details here: https://doku.promo/investasi-kripto-lebih-hemat-dengan-promo-bittime-x-doku
What are you waiting for, immediately make a deposit at Bittime and get the benefits,
Regards,
Team BITTIME
Follow our social media & visit our website to get new information!
Bittime Website | Bittime Telegram |Bittime Twitter |Bittime Instagram
Come and Join our discussion forum !
ATTENTION: Any decision to buy, sell or trade crypto assets on the BITTIME application is by user 's decision.